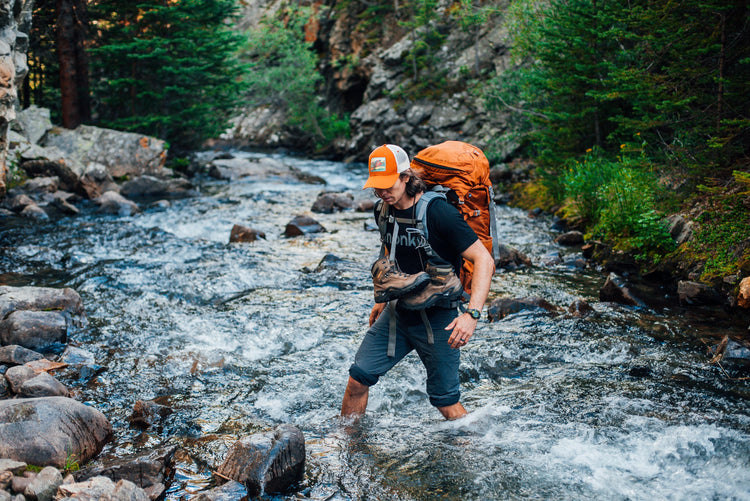 Best Rucking Backpack
Rucking is the new running and it seems like everyone is talking about it.
Dr. Andrew Huberman, Dr. Peter Attia, and even Oprah are are putting on Ruck Backpacks for their workouts.
What is the Best Backpack for Rucking?
If you are interested in adding Rucking into your fitness routine chances are you already have a "Ruck Pack" to at least get you started. Grab that old backpack off your closet floor, put in some weight and go for a walk. It's that simple.
You can use basically anything for weight and some good options include:
Water bottles (1 gallon = 8.34 pounds)
Dumbbell
Kettlebell
Sand*
Gravel*
Bricks
Rocks
Chain
*Put these into a stuff sack or dry bag to keep them contained.
Once you start to get over 10 pounds in your Rucking Backpack, you may want to to consider getting a Rucking-specific pack.
Why the wild gym Ruck Backpack is the best Rucking Backpack.
The wild gym Rucking Backpack is a hybrid design based off of trail running packs and hunting packs. Trail running packs are designed to hug your torso which helps to disperse the load across your body instead of just the tops of your shoulders. The wild gym Ruck uses a similar strap system which means the weight gets spread across your body for superior comfort. Contrast this to other packs where all the weight ends up concentrated on your shoulders and traps leading to a sore neck and an uncomfortable Ruck.
Hunting packs are designed to literally carry hundreds of pounds and we wanted our Ruck to live up to that standard. The internal aluminum frame means that even if you were to put in hundreds of pounds the pack will maintain its shape and fit. This means a more comfortable Rucking experience. 
Our extreme-padding shoulder straps also have special pockets for your phone, water bottle (sold separately) and even a few snacks. There is also a port for a hydration bladder hose. This means you have access to your essentials without having to take off your pack.
The complete wild gym Rucking Backpack includes a hip belt that helps to further disperse the weight across your body for extra comfort. (make sure you select 'Complete' when adding to your cart)
The complete Ruck Backpack also includes a cargo net carry accessory, a self-fill weight bag - perfect for using sand or gravel, external pocket attachment perfect for tossing in a jacket, and as mentioned - removable hip belt.
For the best Rucking experience we recommend also getting one of our premium cast iron Ruck Weights designed to fit perfectly into our Ruck.
Upon purchase, you will also be sent our wild gym Guide to Rucking which details how to get started and includes several Rucking training programs:
Time-based Rucking
Distance-based Rucking
Rucking Workouts
Rucking + Suspension Training Workouts
You can find the wild gym Rucking Backpack here.
Conclusion
You can get started Rucking today with pretty much any pack - so what are you waiting for? Start with 5-10 pounds max and slowly increase both the weight and distance over time. As you start to advance your Rucking practice consider upgrading to a Rucking-specific pack. Much love and we'll see you out there!
Have a question about Rucking? We LOVE hearing from the wild gym Ruck Crew so please do not hesitate to send us a note.
info@wildgym.com